The 2nd Annual Ithaca Crankie Cabaret
2018 Crankies (See Artist Bios here):
Charity Rae – In her crankie, That Which Knowledge Cannot Eat/The Stars Within The Stars Without, Charity Rae invites you to go on a journey through landscapes that exist between the magical and the ordinary, the earth and the heavens, the 'real' and the surreal.
Edith O. McCrea – Salmon Boy  was inspired by the magnificent First Nations art of the Pacific Northwest.  It is a retelling of a widely-known regional myth that teaches of the interconnected and symbiotic relationship between salmon and humans.  The visual story is told in circular images reminiscent of the traditional carvings on the disks of spindle-whorls, a motif now widely used by modern Pacific Northwest First Nations artists in silkscreen prints, carved wall hangings, and many other media.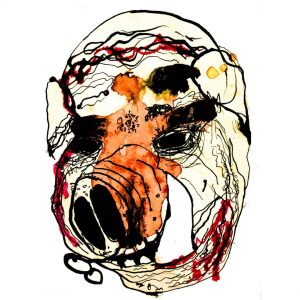 Gavin Donohoe & Isaac Sharp – The Three Little "Pigs"
Chimera: a DNA molecule with sequences derived from two or more different organisms, formed by laboratory manipulation…
For all of human history, a line has separated humans from all the other organisms. Not the spiritual or philosophical line that some would draw, but the very real fact that human genes and those of other creatures simply could not be combined. But modern science is, for better or worse, blurring that line. Will there come a time when it ceases to be clear what exactly is, or isn't, human?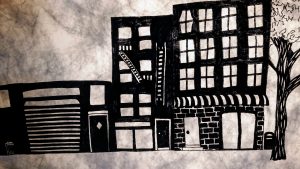 LilySilly Puppets – Stories From a Russian Colony –  the resorts of the Borscht Belt have been abandoned for decades, but Russian families were still vacationing there in the early 90s.  Lily Gershon recalls her childhood at a Russian bungalow colony in the Catskills after visiting one last time.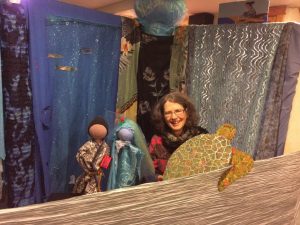 Mary Milne & Regi Carpenter – The Kingdom Under the Sea – An ancient Japanese folk tale that speaks of time and mortality.  A fisherman rides on the back of a turtle down to the Dragon Palace in the Kingdom Under the Sea.  There he meets the beautiful daughter of the sea god. Still, he wants to return to visit his old village where his fate awaits.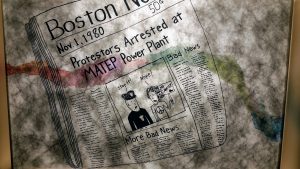 Melanie-Conroy Goldman & Isaac Sharp – A true story about seven identical women and a dead elephant.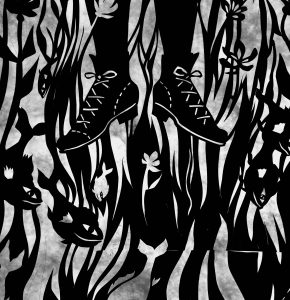 The Stringpullers  – Summer Flood – "See how water is with the ground,
always moving toward the ocean, though the ground tries to hold water's foot and not let it go." ― Rumi
Here are some highlights from the 2017 show, our first ever production, to give you an idea.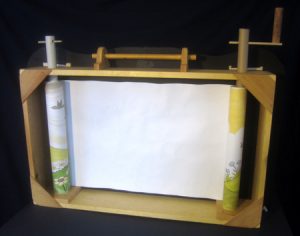 What is a crankie? "A crankie is an old storytelling art form. It's a long illustrated scroll that is wound onto two spools. The spools are loaded into a box which has a viewing screen.  The scroll is hand-cranked while the story is told. It can be accompanied by a narrative, song or tune."
For info about previous show click here.
Photos of what you might encounter at the Ithaca Crankie Cabaret: