The Annual Ithaca Crankie Cabaret
Lilypad Puppet Theatre produces an annual Crankie Cabaret in November. We bring together artists, puppeteers, storytellers and musicians for this fabulous weekend of crankies.
Crankie Cabaret 2019 will be on November 7-9 @ 7:30pm & November 10 @ 3pm at The Cherry (102 Cherry St. Ithaca NY)! BUY TICKETS HERE
Our featured PERFORMERS for this year will be:
Melanie Bush & Bob Asta
Vandana Jain & Mike Estabrook of Artcodex
Isaac Sharp & Marina Gershon
Hilby the Skinny German Juggling Boy
Alice Muhlback
AJ Sage and Tori Tranchina
Lily Gershon of LilySilly Puppets

More info coming soon!
See what we've been up to in the last few years: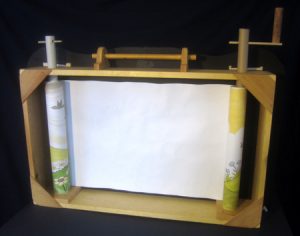 What is a crankie? "A crankie is an old storytelling art form. It's a long illustrated scroll that is wound onto two spools. The spools are loaded into a box which has a viewing screen. The scroll is hand-cranked while the story is told. It can be accompanied by a narrative, song or tune."