Our 2018 Crew:
Charity Rae – A resident of West Danby, NY, and a creative collector, Charity Rae is the co-founder of the Ithaca born and raised, Art Club; an organization dedicated to igniting, exploring and celebrating everyone's innate creative essence. In a review of her work, C. Pappas writes, "Charity Rae walks among ancestors, dwells in the dens of the Earth Mother, breathes in the moon-soaked stars.  Inspired by nature's wildness, the sound of rain on roofs, the rocking sway of a train, Charity Rae engages the senses with her art.  Her images invoke the scent of wolf's fur in the dust on the mantel, the sound of moth wings fluttering against a house-bound moon, the shiver of strange synchronicities". See her mini crankie from 2017 here.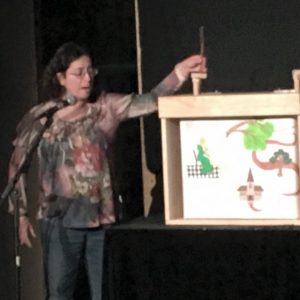 Edith O. McCrea – Edith enjoys soft-sculpture, puppetry, writing, drawing, singing, banjo-playing, songwriting, and contra dancing. She is a puppeteer with Magic Garden Puppets, a board-member of the Central NY Waldorf Puppet Guild, and a member of Puppeteers of America. Edith built and operated puppets for The Cherry Arts' 2016 and 2017 production of The Snow Queen. In 2013, the video of her original song, "You've Been Fracked!" won First Place in the Artists Against Fracking video-contest sponsored by Yoko Ono and Sean Lennon. Edith also wrote and directed the song/music video "The Ballad of Dryden," and composed, directed, and edited "That's What the Children Say," the anthem of We Are Seneca Lake.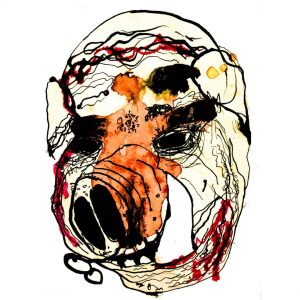 Gavin Donohoe – Gavin is an Irish artist who lives and works in NYC. He is interested in what happens when things collide; the innocent and the grotesque,  the playful and the morose, the real and the absurd, the profound and the perverse. You can keep up with endeavors at www.instagram.com/gavindonohoeart
Isaac Sharp – Who can say what Isaac Sharp really is? Not you, nor I, and surely not he. I once heard from a wise old fig tree that Isaac Sharp is the spawn of a shrew and a serpent. A trustworthy squid swore that Isaac had been blessed at birth by the Goddess Anthelethwih'rn with the gift of transmutation and that he must thence do Her bidding. Perhaps it is so. Perhaps not. Perhaps he is simply a dollop of peanut butter on a stale piece of toast.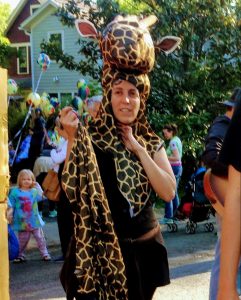 LilySilly Puppets – Lily Gershon is a local puppeteer and creator of LilySilly Puppets. She makes hand and shadow puppets in Freeville, at a small collective house called the Dacha Project that she built with her pals. She enjoys parades, jazz singing, wind-up toys, and pop-up art, and pretty much anything absurd and wacky.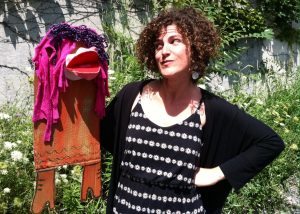 Marietta Synodis – Marietta is a modern-age Renaissance woman. Prior to moving to Ithaca in 2014, she worked as Senior Researcher for the NPR show State of the Re:Union. In 2017 she produced a 6-part radio series for WRFI documenting the community reading of The New Jim Crow. She is currently studying with the Actor's Workshop of Ithaca.
Marina Gershon – Marina is known about town for her keen sense of smell. She can frequently be found acquainting herself with dogs in the typical canine manner. In 1998, Marina received the first and only Honorary Olfactory Award from the American Kennel Club where she currently presides as the Sniffer in Chief. When not sniffing, Marina enjoys boondoggles, which she strives to take part in at least thrice per week.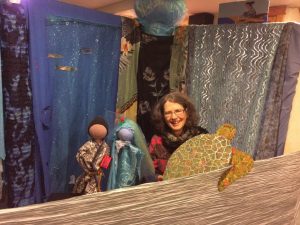 Mary Milne – Mary Milne has worked with fabric for much of her life. A self-taught artist, her fabric collage depicts a range of subjects from landscapes to topical themes. She has also made large 3-D creations for children, such as a massive Very Hungry Caterpillar and a walk-in fabric globe. Mary has had a fascination with the narrative cranky format, making her first one as a child. More recently she has made several small toy theaters with scrolling backdrops. This is Mary's first fabric theater production.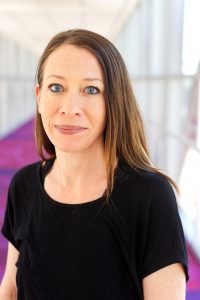 Melanie-Conroy Goldman– Melanie Minnie Lena Conroy-Goldman teaches fiction writing at Hobart and William Smith Colleges.  Her work has appeared in Southern Review, Story Quarterly, on McSweeneys Internet Tendencies, in anthologies from William Morrow and St. Martin's and elsewhere.  Her novel, The Likely World, is represented by the Clegg Agency, and will be published by Red Hen Press in 2020.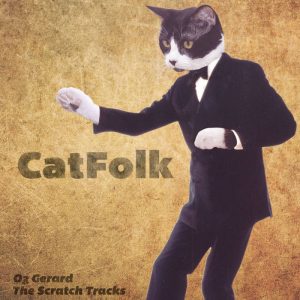 Oz Gerard – Fact: Oz Gerard is not his real name. Fact: Oz Gerard does not have any cats. Fact: Oz is president of a multi-thousand dollar corporation.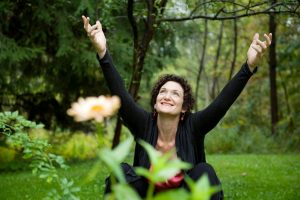 Regi Carpenter – For over twenty years Regi Carpenter has been bringing songs and stories to audiences of all ages throughout the world in school, theaters, libraries, at festivals, conferences and in people's backyards. An award winning performer, Regi has toured her solo shows and workshops in theaters, festivals and schools, nationally and internationally. Regi is the youngest daughter in a family that pulsates with contradictions: religious and raucous, tender but terrible, unfortunate yet irrepressible. Her tales celebrate the glorious and gut – wrenching lives of Carpenter's raised on the Saint Lawrence River in Clayton, New York.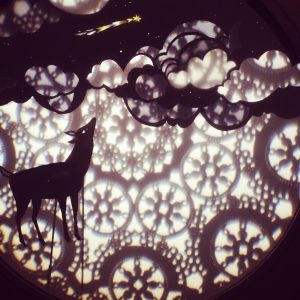 The Stringpullers – The Stringpullers are Polly and Boris, new to Ithaca from New Haven, Connecticut. Polly trained with Puppetsweat Theater for five years before reviving her grandparent's company in 2010 with Luna's Sea, an aquatic puppet show for the American Museum of Natural History. She was joined by Boris in 2017. The Stringpullers build all kinds of puppets for the stage and street, teach puppetry workshops, perform, and produce shows for children and adults. They are delighted to make their Ithaca debut at the 2nd annual Crankie Cabaret!