Lilypad Puppet Theatre produces an annual Crankie Cabaret in the Fall. We bring together artists, puppeteers, storytellers & musicians for this fabulous weekend variety show.
Crankie Cabaret 2023 will be on November 17-19 @ The Cherry! (102 Cherry St, Ithaca) Friday & Saturday show at 7:30pm, Sunday 3pm. Doors open half hour before the show!
***Buy your ticket as a Supporter and get a chance to win a free one night stay at the fabulous Argos Inn. Argos Inn is a beautifully restored, LEED certified, historic mansion in downtown Ithaca. It houses thirteen boutique hotel rooms and two unique craft cocktails bars. (Note: The one night stay is for Sunday – Thursday nights only.) Valued at $200+ The Argos inn offers a touch of the exotic, that magical feeling of being in a far off place with all the comforts of home. ***
"A delightful, interesting, entertaining and life affirming performance. Loved every minute of it." – Hilby the Skinny German Juggle Boy on the Crankie Cabaret.
See what we've been up to in the last few years: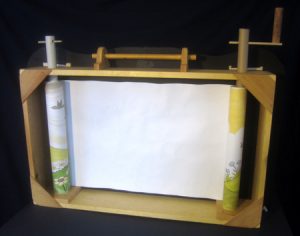 What is a crankie? "A crankie is an old storytelling art form. It's a long illustrated scroll that is wound onto two spools. The spools are loaded into a box which has a viewing screen.  The scroll is hand-cranked while the story is told. It can be accompanied by a narrative, song or tune."